With the D-day getting close, every bride is hunting for the perfect bridal wear, beautician and the accessories which she can match with her gorgeous wedding dress. With many things lurking on the mind, Mehendi designs are one of the prominent factors which are somewhere in the back of your head. After all, one of the important ceremonies in Muslim wedding is Mehendi. If you are looking for some gorgeous designs to adorn your hand, then we give you the top 10 Muslim Mehendi designs that are sure to give you a stunning bridal look.
Best Muslim Mehendi designs for you

Mehendi is a great way to convey the essence of weddings – from traditions to celebrations, it's not just a ritual. Numerous Muslim Mehendi images range from symmetrical patterns to jewelry trends while some carry motifs like the rose and the lotus. You can also go for a detailed and intricate pattern or a subtle simple Mehendi designs at your discretion.

To make things lot easier, we have gone through tons of Muslim designs and selected not only the versatile but also trending Mehendi designs to help you refine your search and pick the best for your hands.
1. Full-hand Mehendi pattern with hidden names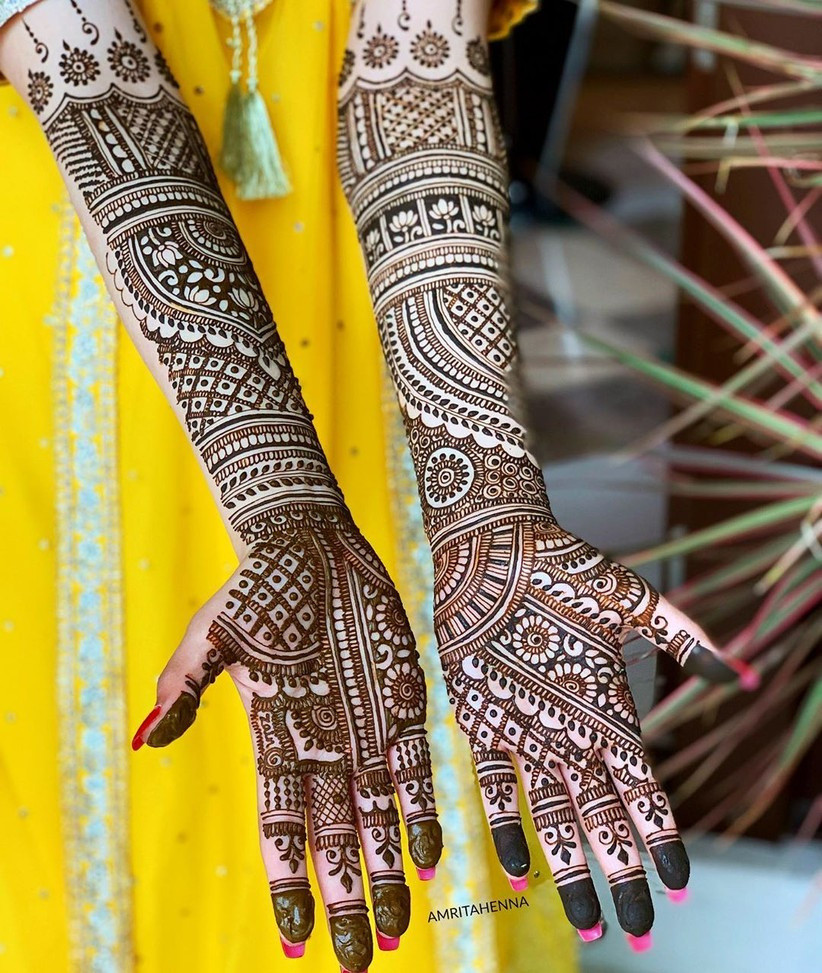 Something is stunning about Muslim Mehendi designs especially full-hand designs. The exquisite and elaborate patterns give attention to detail. For instance, this design is all about elegance and intricacy. As it is a huge design, you can also hide your husband's name in an obscure place and ask him to find it later!!!
2. Leaf-shaped Mehendi design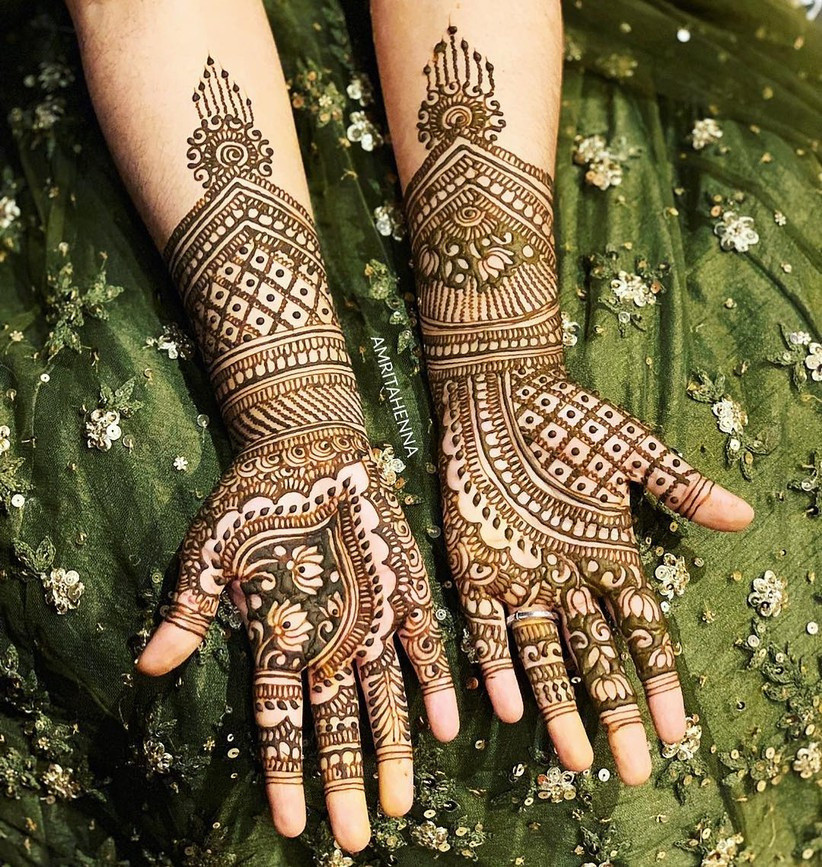 Leaf motifs are one thing but when incorporated in Muslim henna designs looks like a leaf silhouette. What makes this design stunning and complex is its intricate design and finesse that looks simply breathtaking!!!
3. Mehendi designs with geometrical shapes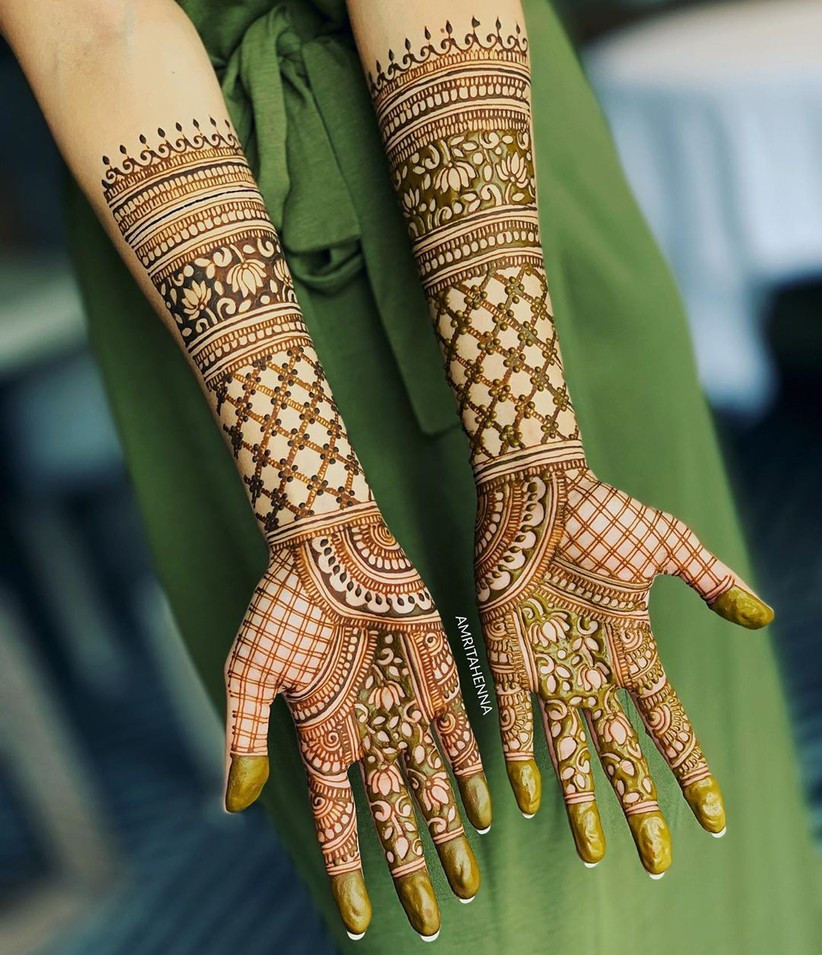 Symmetrical and geometrical patterns in this design speak precision and perfection. It also makes your Mehendi pattern look delicate. This is why many Muslim Mehendi designs are rich with squares and geometrical shapes in different forms and trending currently. Instead of your front palm, go ahead and work on your backhand as well to bring a variety to your Mehendi design.
4. Circular floral Mehendi design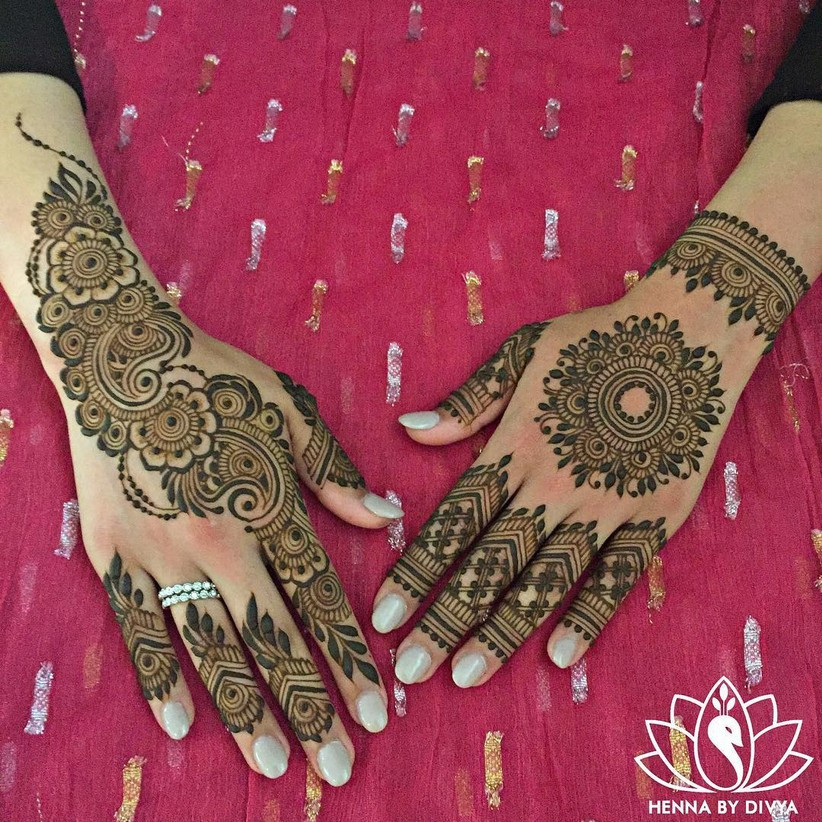 Do you love floral patterns but want a unique look? This Muslim Mehendi design with floral pattern in circular motifs is sure to look chic and sophisticated.
5. Rose Motif Mehendi design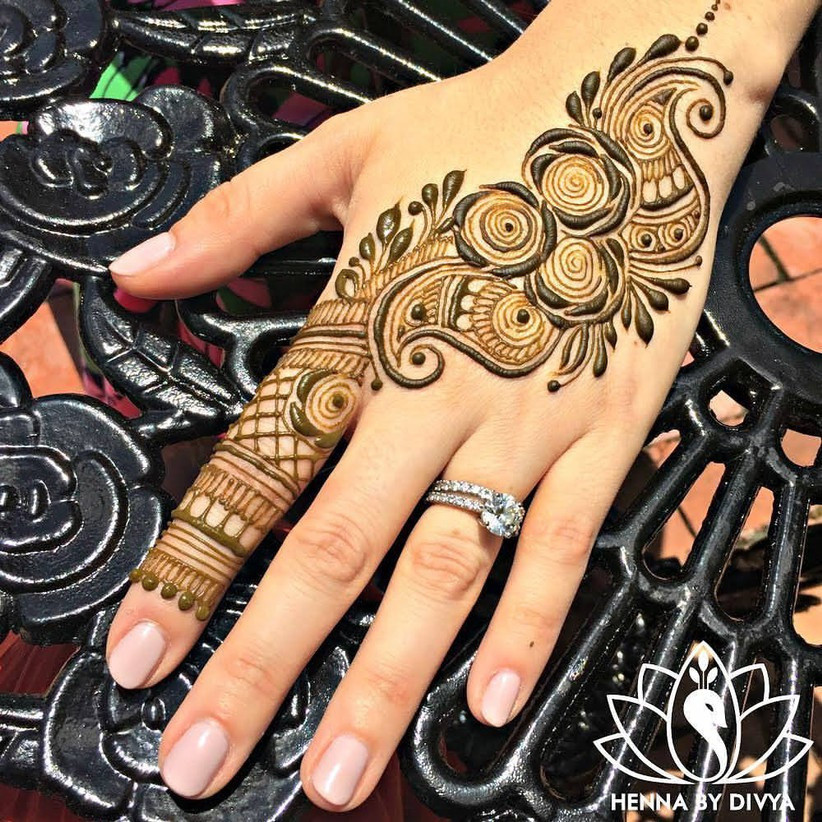 Rose patterns have always been a great hit among Muslim Mehendi designs. They fill up the hand easily without making the design look cluttered. Add some twirls here and some extension patterns for a mesmerizing look.
6. Twirly Mehendi pattern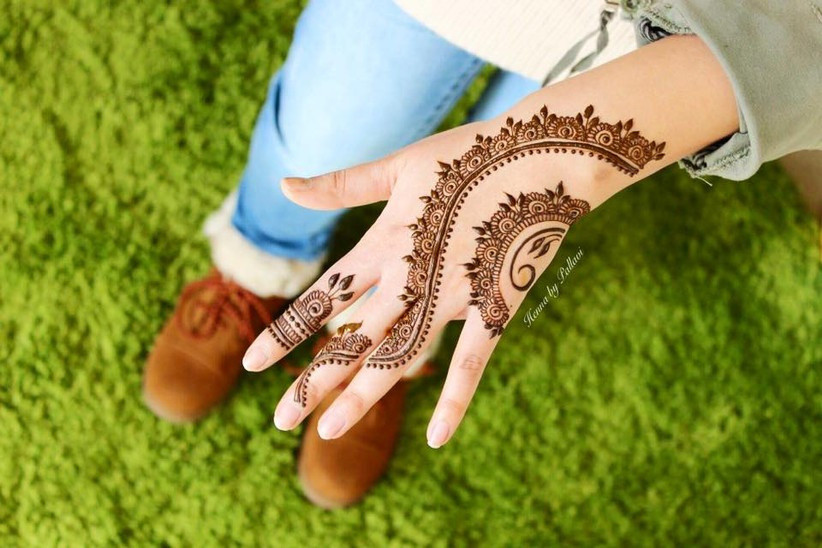 Twirls are fresh, smooth, minimal and look great as backhand Mehendi designs. The best way to go about this specific pattern is to draw two twirls in opposite directions to give a spaced-out effect.
7. Mehendi design for fingertips only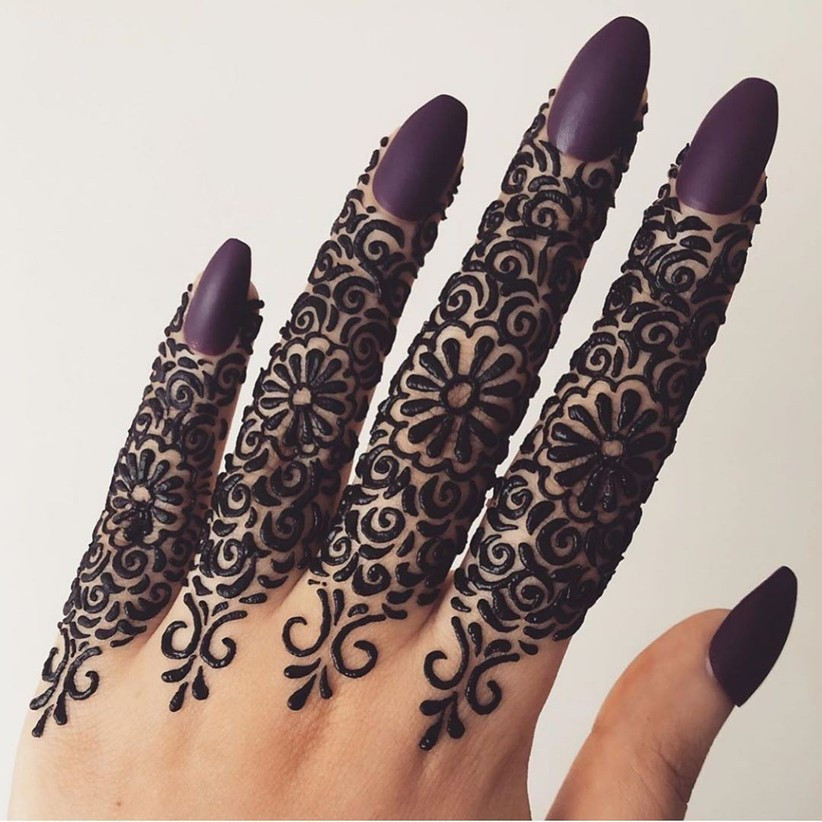 A cool Muslim Mehendi design for bridesmaids who want to get some Mehendi done without going overboard, it features circular patterns on the fingertips.
8. Mandala Motifs Mehendi designs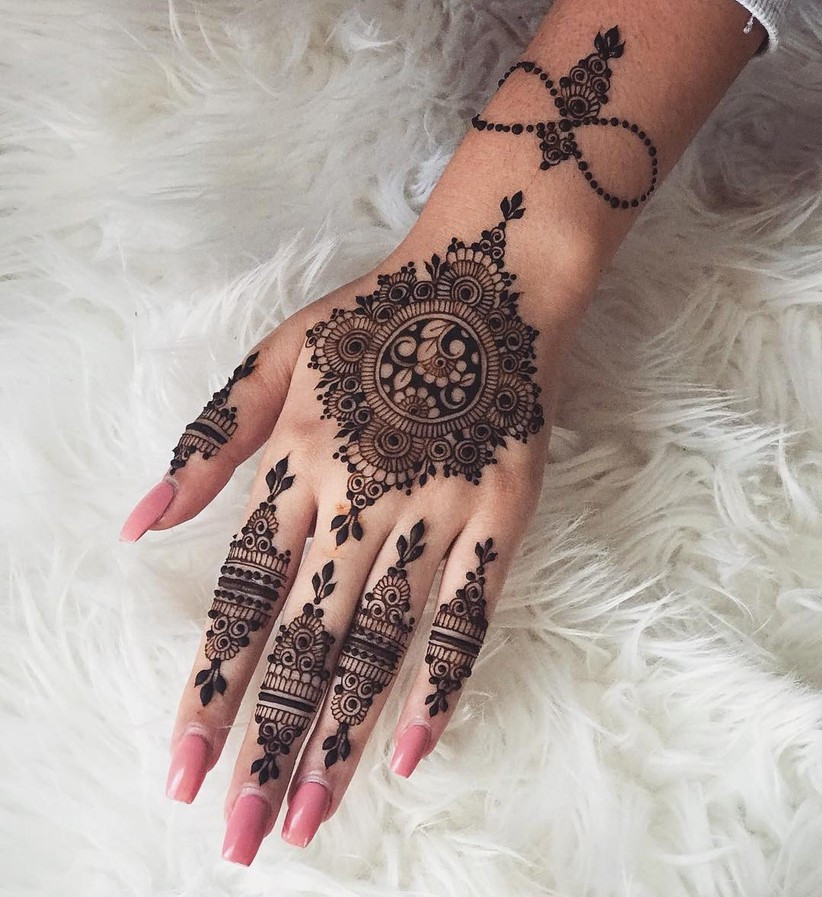 Mandala Motifs are exemplary designs that look marvellous on your gorgeous hands. Detailed yet minimal, it reflects the traditions which weddings are all about. There are two ways to choose this design – (1) either go for a big mandala design or (2) bunch of smaller mandalas.
9. Jewelry inspired Intricate Mehendi design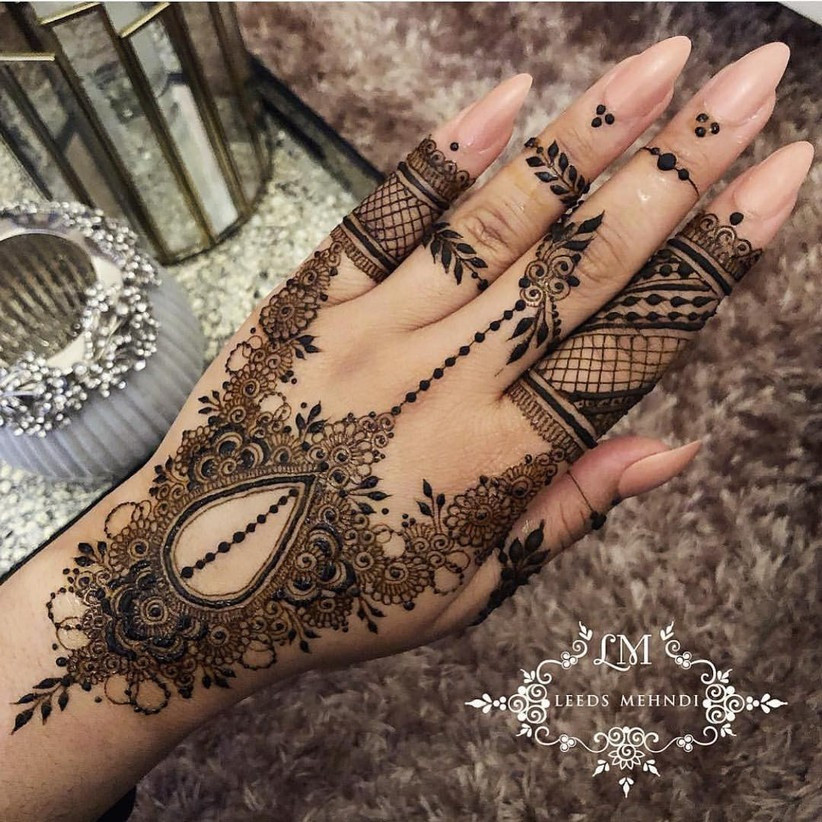 Inspired by the Hand harness, this Muslim Mehendi design gives your hands an ornamental look. So, go out and replace hand ornaments with this design.
10. Meshwork Mehendi design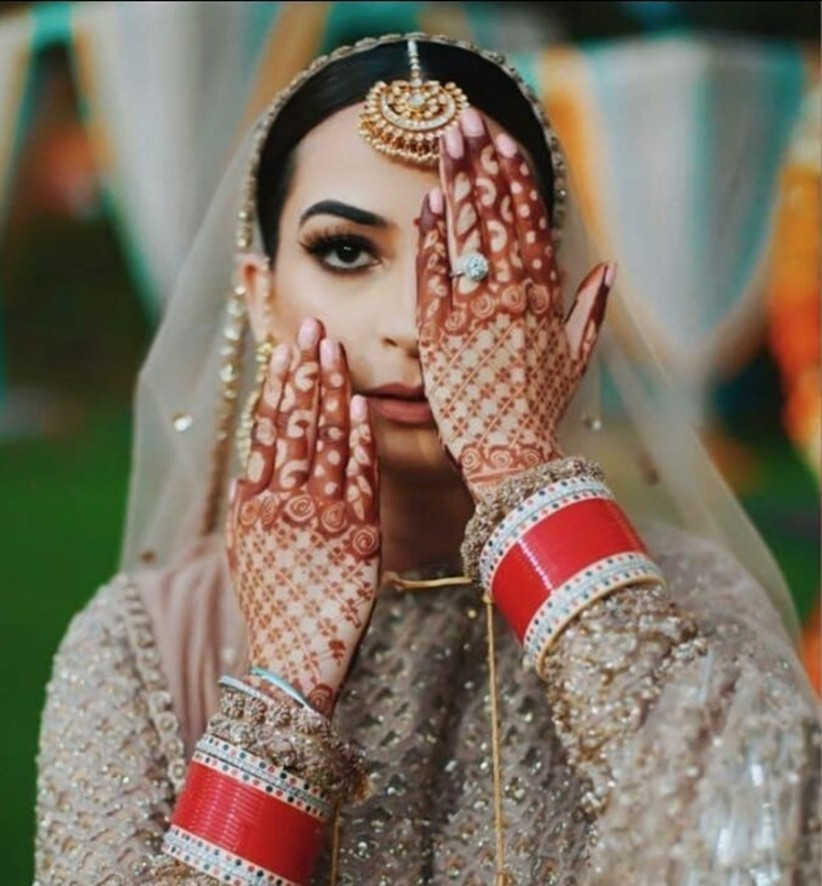 The 'jaal' pattern i.e. the meshwork design is another intrinsic Muslim Mehendi design that is popular this year. A collection of extensive criss-cross patterns, it gives the Mehendi a cool, breezy vibe. So, what are you waiting for? Go ahead, pick a design and feel free to experiment by combing two or more designs from the list.

Looking for a life partner just became easy with Way to Nikah who are one of the growing Muslim matrimonial sites which offers you verified profiles of brides and grooms.